Commercial-grade roofs require the best products so that businesses can run safely without dealing with constant repairs. Top-class brands like Mule-Hide offer a wide range of commercial roofing solutions to create a secure roof that keeps out rain and is resistant to common hazards like hail and pests.
No matter what size and slope your commercial roof has, Mule-Hide's TPO and EPDM membrane systems can meet your needs. In fact, they are among Noble Roofing's preferred commercial roofing systems. Both of these single-ply systems are unique and have their benefits. Here is a brief highlight on these two vital roofing systems.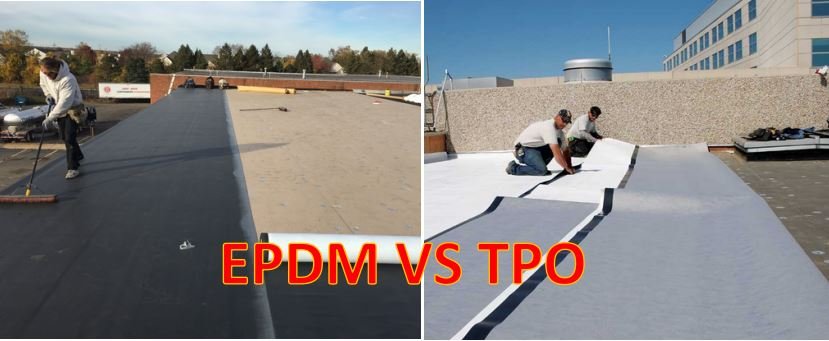 EPDM and TPO
Both EPDM and TPO roofs are single-ply commercial roofing systems and considered superior to PVC roofing sheets. They have dominated the commercial roofing industry for since EPDM's inception in the 1960s.
TPO, which stands for Thermoplastic polyolefin, is newer and costs more than EPDM, but it offers excellent flexibility regardless of the outdoor temperature. This membrane usually comes in white to reflect the sun to make structures more energy-efficient. This means that TPO won't crack or split in the summer and winter when it's applied correctly. However, TPO makes up for some of its higher cost through its simple installation and therefore lower labor costs. Mule-Hide offers different TPO seam widths between 8 to 12 feet to cut down labor costs even more. For a custom fit, TPO must be heat-welded in place. This process takes time but the results are excellent!
EPDM, which stands for Ethylene Propylene Diene Monomer, has been on the market longer than TPO. This rubber-based roofing membrane is design to withstand extreme conditions. Though EPDM is traditionally dark, there are lighter colored variations available that better reflect the sun to keep roofs cooler. This material is designed to be watertight and is optimized for roofs with steep slopes. EPDM is installed with adhesives and primers since heat welding isn't possible.
Commercial Roofing Services in Northern Virginia
The search for a commercial roof contractor that serves Centreville and Northern Virginia can be daunting.That's why Noble Roofing aspires to earn your trust by completing every job well, so give us a call. Aside from the range of Mulehide commercial roofing products we have available, we also do insurance work so you can turn to us at any time to get your commercial roof back into shape after any kind of incident.
To learn more about Noble Roofing's commercial roofing services and to get a free estimate, give us a call today at (703) 404-0505 or leave us a message online during our non-business hours. We look forward to assisting you with all your commercial roofing needs.