Your deck enhances your outdoor living experience and makes every BBQ party incredible. Therefore, it's important to take care of your deck so that it lasts for years. Wooden decks must have their surfaces protected from common dangers like strong UV rays and moisture to prevent cracking and rot. Applying regular deck staining and sealant can keep your deck beautiful and functional for years. You can also install a deck membrane from Dec-Tec to protect your deck for years. Which protection method is right for you? Would you prefer to do traditional deck maintenance or is a deck membrane the route for you? This guide will help you decide.
How Much Time Do You Have?
When you own a deck, you should expect to spend at least one weekend a year maintaining it with a thorough cleaning and fresh sealant application. So, though it's not much time in the grand scheme of things, taking a whole weekend off may not be right for some homeowners. This is especially true for busy commuters and people with small children who can use every minute of free time for something else. For these individuals, it's advisable to hire a contractor to do this work for you or to apply a membrane so that your work is drastically reduced. However, if you have time and are good with DIY jobs, you can save money and keep your deck looking wonderful through traditional staining and cleaning.
What Kind of Tools & Skills Do You Have?
If you dream of doing a DIY job but you find that the tools and the know-how are above your skill-set, then it's also advisable to outsource this task or install a membrane to reduce your future workload. Sometimes it can cost more to buy the tools and the sealant every year instead of getting a one-time application of a membrane. Overall, this decision is up to your skillset and the amount you're willing to invest in deck maintenance equipment.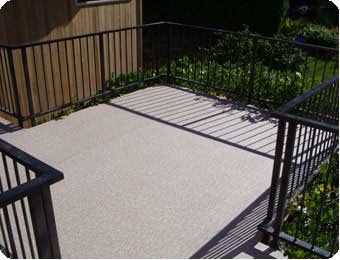 What's Your Budget?
When it comes to budgeting, small, frequent expenses can end up costing more than a one-time bigger expense. This is true when it comes to deck maintenance. A one-time application of a membrane costs more upfront, but it spares you yearly bills related to hiring contractors or purchasing DIY equipment to protect your deck. If your budget allows, then choosing the route of a one-time deck membrane application can save you money and time for years to come. However, if you prefer to save up smaller amounts each year to hire contractors or do the work yourself, then regular staining is right for you.
Deck Replacement & Repair in Northern Virginia
Whether you're looking for better form or function, or simply feel that a new deck is in order, trust Noble Roofing, the preferred choice for all home improvement projects in Centreville VA, and its surrounding cities. Give us a call at (703) 404-0505 to speak with our experts. You can also request a free estimate through our online request form today.