In typical Virginia fashion, the weather around this time of year fluctuates between balmy 60-degree afternoons and bitterly cold mornings with frost on the ground. But this occasional breakthrough of spring temperatures signals the inevitable coming of spring. While it's not quite the time to undergo unnecessary outdoor repair projects, you can always plan for maintenance season. Here are 5 ways to prep your roof for spring.
1. Remove Any Foreign Debris from Your Roof
Your roof can accumulate a surprising amount of debris between fall and spring. Winter can cause pine needles to shed, and blustery winds can break off brittle branches and sticks that end up on your roof. These elements can fall on your roof, ventilation stacks, and gutters and cause clogs and water damage. Moisture can also build up on your attic due to poor ventilation.
2. Check for Animal Nests
In the spring, animals like to scout places to eventually put their nest. Check areas around your roof where there are former nests and remove them, and be vigilant if you start to see new nests being built in the coming weeks. Nest building can damage your roof through burrowing, digging, and chewing, which can let in water and other pests.
3. Trim Overhanging Branches
If there are trees near your home, there is a good chance that the branches can grow too much and hang over your roof. When these branches get too long, they can start hitting your roof and cause damage to shingles, especially during wind storms. Branch removal is one of the best preventative measures you can take to keep your roof safe at any time of the year.
4. Check Your Attic For Holes.
Your attic is a vital part of a roofing system. It is important to inspect it regularly for any breaches. Go inside your attic periodically to look for leaks and any daylight coming in through cracks. Moisture buildup in the attic can cause mold and wood rot, two expensive problems to fix that also cause health problems. Pests can also find their way in and invade the rest of your home through a hole in the attic.
5. Check for Damage and Fix It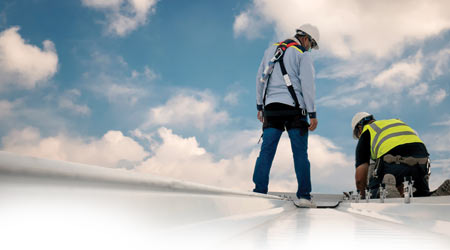 Winter provides enough downtime to schedule an inspection and to take some time to check for obvious signs of damage yourself. Here's a quick checklist to help you assess any immediate dangers:
Gutters: Check if the downspouts and gutters are firmly attached to the house. Make sure the gutters are free of debris.
Replace missing tiles, shingles, flashing, and caulking.
Find holes and plug them, or use chalk to mark them and call a roofing pro for help. (If you can't get on your roof safely, simply take a few photos.)
Buckling or smooth shingles
Torn or missing flashing
Clogged ventilation stacks
Rotten or loose caulking
Check along the peak of the roof for leaks.
These are just a few tips to get you started. For a full, comprehensive assessment of your roof's condition, schedule a regular roof inspection every year or after a significant storm.
Trust Your Roof Replacement to Noble Roofing
Whether you're looking for better form or function, or simply feel that a new roof is in order, trust Noble Roofing, the preferred choice for roof replacement in Centreville VA and surrounding cities. Give us a call at (703) 404-0505 to speak with our roofing experts. You can also request a free estimate through our online request form today.
Recently experience a bad Storm Damage? Sometimes a Roof Repair is all you need!