When it's time to sell your home, getting offers for the right amount is one of your top priorities. Making strategic fixes and updates can get you top dollar offers without wasting your money on improvements that do little to entice buyers. When you're fixing your home to sell, it's important to consider all the improvements that are most important to buyers. In this way, you can channel your budget into repairs that will benefit you the most. Here are the top 5 fixes home sellers should make before listing.
Fixing to sell means offering a home that you'd want to live in yourself. If you sell "as is" with broken appliances, scratched floors, and a questionably functional HVAC, you will certainly receive low-ball offers that are figuring the cost of the improvements post purchase in mind. (And, might we add, the quotes received for these fixes are usually estimated in the higher cost range). To avoid selling for less and missing out on profits, find cost-effective ways to make the fixes so that you offer a product that is above reproach.
1. Air Conditioner & Heating Systems
Anything structural or mechanical should be on top of your list. However, temperature control is a big non-negotiable to buyers. This is typically an expensive repair, but if you consistently maintain your HVAC and take preventative measures to keep it in good condition, you can offer a home with dependable temperature control. If you know your central air or furnace is about to go, start budgeting for an inevitable replacement before you list. When you replace these units with energy-efficient models, you also boost your home's appeal. Sometimes have have to accept some repairs because they are important for your home's marketability.
2. Roof Systems
This is another big one. When buyers are looking for an FHA or VA loan, the appraiser often requires a roof replacement when signs point to it being on its last leg. Be on the lookout for trouble spots on your roof like structural irregularities, sagging gutters, missing shingles, cracks, and leaks. These signs point to the need for immediate repairs and a possible replacement. A new roof also boosts a buyer's confidence and prevents a price reduction on the offer.
Hot Tip: Replace your roof proactively before listing. Nothing's more stressful than rushing to replace a roof when a replacement becomes one of the terms for sale on the contract. You'll already have enough on your plate with packing your belongings and making offers on your next home… so why add a roof replacement on top that?
3. The Home's Exterior
While we're not supposed to judge a book by its cover, it's 100% a thing for buyers to turn down a house that looks "ugly" from the outside. This includes:
Cracks in stucco
Dirty siding
Detached siding
Faded or chipped paint on shingles
Rusted trim capping on windows
Outdated, dirty windows
Poor landscaping
Disorganized yard
Signs of pests like wasp nests
… and much more. Overall, if it's what the buyer sees before he enters your home, you need to it look good so he'll want to see what's inside. First impressions are everything.
Note: If you need an exterior touchup, getting your siding repaired and powerwashed can do wonders for your home. Window replacement is also among the more affordable home improvements and can often be ordered in conjunction with some other maintenance task like gutter cleaning or trim capping older existing windows that still function well.
4. Interior Details
While you don't need to go the extra mile and buy the most expensive paint and flooring replacements, do look for good quality paint and interior remodeling products that show well. To save money on painting, try and take a day off work and get some friends to help you do the job yourself. If a room needs a quick flooring upgrade but you don't want to spend a lot, find out if you can install a floating laminate floor that locks and snaps in place over existing flooring. This cuts out labor costs of removing flooring, or you can save the most money if you can do it yourself. Good looking walls and floors are two big details that buyers like to see taken care of before they move in, so be diligent in these details if you want to sell.
Note: There is an invisible component to a home's appeal that is often overlooked: smell. If you have some areas in the home that need intervention (such as a stubborn part of the carpet that has a sour milk smell, or pet odors), then invest in some steam cleaning or professional help. No matter how great a home looks on the outside and within, a bad smell can turn away even the most interested of buyers. Make steps to freshen up your home before each showing and to ensure that the interventions you take keep it smelling great.
5. Kitchens & Bathrooms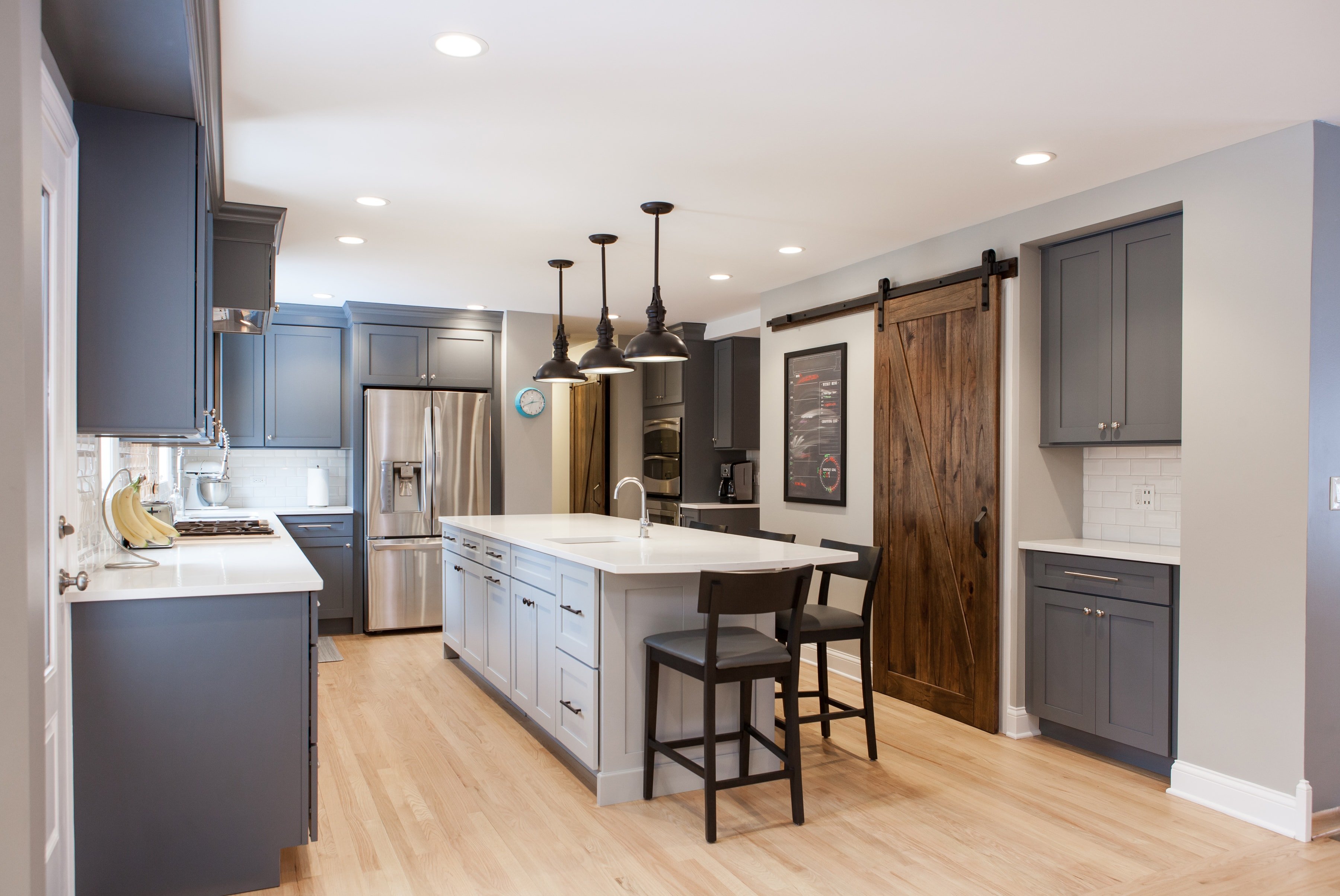 Buyers are obsessed with the quality of kitchens. And, why not? It's where they're going to spend a lot of their time prepping food and making coffee in the morning. Kitchens have also evolved from solely a prep area to becoming a popular place to congregate. The modern trend of an open kitchen-living combo has only made the quality of a kitchen under more scrutiny than in years prior. Make sure your kitchen has modern, functional appliances and an updated design that will impress visitors.
Bathrooms are on the list because they are also vital to a home's comfort level. Make sure everything is functional, attractive, and clean when you start showing your home. Stage it with a matching set of bath mats and accessories for an extra touch of home.
Note: Small, inexpensive improvements can make big impacts. New hardware for cabinets, a new backsplash, new caulking, fresh light fixtures, steam cleaned grout, or a new appliance may be among the effects you need to create a stunning impression.
Roof Replacement or Repair in Northern Virginia
Whether you're looking for better form or function, or simply feel that a new roof is in order, trust Noble Roofing, the preferred choice for roof replacement in Centreville VA and surrounding cities. Give us a call at (703) 404-0505 to speak with our roofing and siding experts. You can also request a free estimate through our online request form today.