At Noble Roofing, we are keen on keeping your house's exterior in great shape. From gutter systems, roof shingles, to siding and windows, we have the pros that can optimize your home's appearance and function. However, there is one aspect of your curb appeal that we also encourage that you stay on top of: your lawn. Having a great -looking house falls flat if your yard is patchy or full of weeds. So, while we can take care of the essentials like your roof and siding, now is a great time to fertilize your lawn, treat it for weeds, and make some big plans for landscaping aesthetics. Here are 5 yard upkeep tips that you need to know to have a green lawn this spring.
1. Aerate Your Lawn Every Year
If you see yellow grass, patchy areas, or spots in your lawn that have poor drainage, you may need to aerate your lawn. This task can be affordable when you manually aerate your yard with a manual tool that costs less than $40. Aerating your lawn allows oxygen to reach the roots of your grass, which helps them grow deeper, allowing a more lush, green lawn. It also helps fertilizer and herbicides work better.
2. Fertilize Your Lawn in the Early Spring
If your grass looks starved for nutrition, fertilizing it in the early spring is your next step. Find the product that is right for your lawn depending on your needs. Two favorites for homeowners are Miracle-GRO All-Purpose Fertilizer and Scotts Turf Builder Lawn Food.
3. Use an Herbicide to Kill Weeds
There are many types of weed-killers on the market. Some are non-selective, which means they kill any plant that the compound comes into contact with. There are also selective herbicides. When it comes to getting rid of invasive weeds in your lawn, a selective broadleaf herbicide is better. This type of herbicide only targets common weeks with broad leaves like dandelions, clovers, and crabgrass and leaves your grass alone. A popular product is Ortho Weed-B-Gon, which is actually dual-acting, which means it can kill both existing plants and prevent new weed seeds from germinating.
If you need to steer clear from any type of toxic chemicals, there are organic and natural products available as well. Individuals with pets and small children generally prefer to use organic fertilizers with natural ingredients. Therefore, there are no toxic chemicals to harm anyone who may come into contact with the fertilizer. However,  most organic herbicides are non-selective, so you will need to spot treat each weed or pull them out manually and use an organic weed preventer for the best results.
4. Don't Mow Your Grass too Short
Lawn experts advise property owners to not mow their lawn too short, especially in the summer. This will protect your lawn from drying out and will leave less room for weeds to take hold. While it can be tempting to mow your lawn very short to have more time between mowing, the negative effects of a patchy, scorched lawn are not worth the risk.
5. Water 2-3 times a Week in the Spring and Summer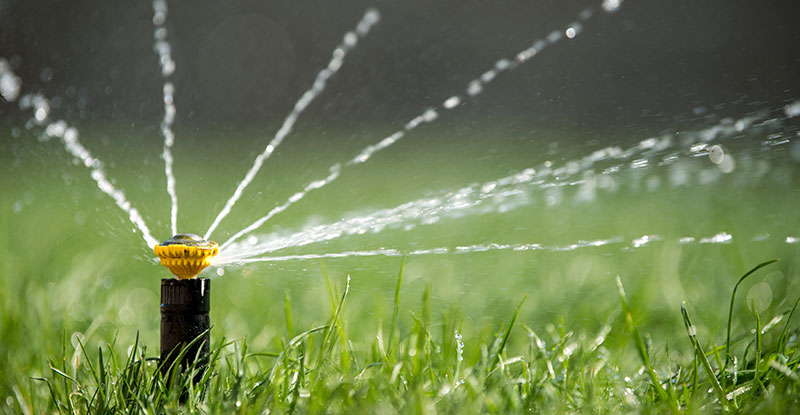 Morning is the best time to water your lawn because it is right before the sun gets intense and starts to evaporate the water. Aim for 1-2 inches of water for your lawn every week, which equates to watering your lawn 2-3 times a week for about 15-30 minutes each session. This rate also fluctuates with the rate of rainfall you receive.
Keep Your Home Beautiful with the Help of Noble Roofing
There are countless components that make up an attractive home. The type of shingles you choose is just a part of the complex system that protects your home from wind, rain, and other intense outdoor elements.
Noble Roofing is happy to serve Centreville and its surrounding cities in Northern Virginia. If you have any questions about installing windows or any other home improvement project, call us today at (703) 404-0505. From there, we can set up a free consultation to figure out what your home needs. You can also fill out our convenient online contact form and we'll get back to you as soon as possible.