If you've been looking for a way to improve air circulation in your roof, then attic ventilation is essential. The right ventilation system will prevent nuisances like ice dams in the winter and improve your home's overall energy-efficiency. This results in longer roof life and lower energy bills. With such a win-win in play, it's easy to see why installing the right type of attic ventilation in your home or business. There are many types of ventilation available, and each have their function and place. Does your attic need a powered attic fan or will it function well with a convection roof vent? This guide will help you decide. Also, if you don't know where to start, our team of expert roofing contractors will be glad to give you some advice — and a free quote for installation!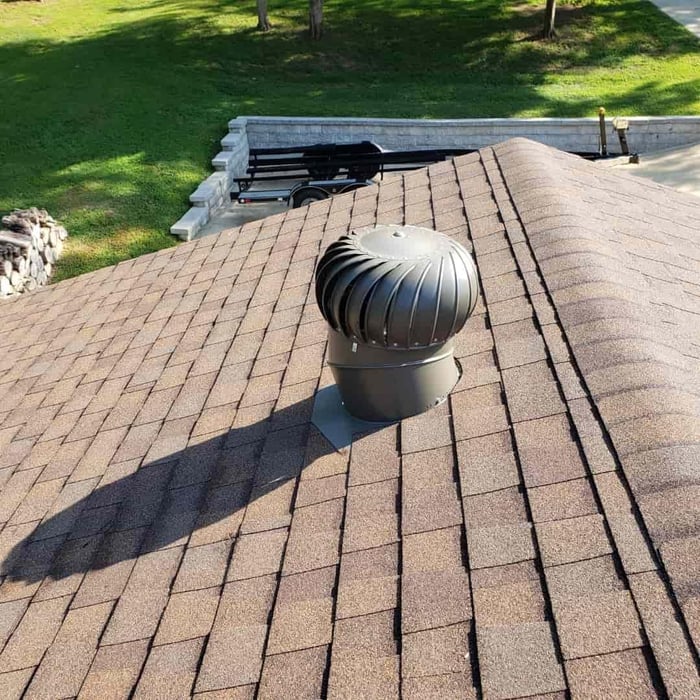 Why Attic Ventilation Matters
Thought it may seem strange to want a "hole" in your roof, ventilation plays a vital role in your roof's integrity. Without ventilation — whether it's a roof fan, electric roof vent, ridge vent, soffit vent, or another type of ventilation, unfinished attics will develop stagnant air. Without any air flow, attic temperatures soar in summer and go below freezing in winter. Attic fans and roof vents, however, let out stale air and bring air into the attic from outside. This prevents big temperature extremes and maximizes the performance of your roof.
Got Moisture Problems? Use a Roof Fan.
Water vapor can enter unfinished attics easily, typically rising from the lower level of the house. This moist air condenses on the home's framing and can cause mildew problems and icicles in the attic during different seasons. This can damage the underside of your roof decking, rafters and insulation. When allowed to accumulate unchecked, you can find insect infestations and wood rot. Electric powered roof fans send this moist air out. It is more powerful than convection currents because it uses rotating fan blades to draw air out of the attic. Gable fans can use solar or electric powered motors, providing reliable power to create healthy air flow through the attic. Currently, electric roof fans move the largest quantity of air and are recommended for homes that tend to have moisture problems.
Just Need Temperature Stabilization and Air Flow? Use Convection Vents.
Roof vents that rely on natural convection currents are also effective when you aren't dealing with a moisture issue. When hot air rises, it gets sent through the convection vent naturally. Air also moves naturally when cool air drops. Roofers prefer to install convection vents close to the peaks of sloped roofs. Ridge vents and soffit vents are the most popular types of convection vents that are effective in stabilizing roofs and attic environments.
Trust Your Roof Repair & Replacement to Noble Roofing
Whether you're looking for better form or function, or simply feel that a new roof is in order, trust Noble Roofing, the preferred choice for roof replacement in Centreville VA and surrounding cities. Give us a call at (703) 404-0505 to speak with our roofing experts. You can also request a free estimate through our online request form today.
Recently experience a bad Storm Damage? Sometimes a Roof Repair is all you need!