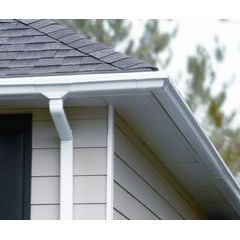 Have you dreamed of gutters that look just as good as day one with just a little bit of love and care? Then installing vinyl gutters may be the perfect fit for you. At Noble Roofing, we can recommend many high-quality vinyl gutter systems that will protect your roof and enhance your curb appeal.
If you've been looking for a modern upgrade to a durable, functional, and attractive material, this can be the change your house needs. Here are the pros this gutter type and why this material has been growing in popularity since it hit the market.
Vinyl is Extremely Durable
Vinyl gutters are made of PVC plastic, which is resistant to dents and corrosion. Its competitors, usually made of metal, though they're durable and long lasting, can succumb to rust when not cared for. By resisting impacts from hail and rust, your gutters can look the same for years with minimal maintenance. Overall, this is the ideal material for homeowners who don't have a lot of time to devote to gutter repair and maintenance.
It Offers Superb Curb Appeal
PVC is usually a white plastic, which means that it doesn't need to be painted and it is the same color inside and outside. This eliminates scratches and scrapes because there is no paint to chip and no place for rust to invade the exterior of the gutters. Vinyl is also available in styles like seamless gutters which close the gap that typically exists between gutter and the house.
Vinyl is Lightweight
This material's next advantage is that it's incredibly light, which makes them easier to handle. Also, many brands design their gutter parts to easily snap together. Lighter materials are easier to install than heavier materials like metal gutters, which helps DIY homeowners and contractors stay safe.
You Save More Money
The lighter weight of vinyl makes it cheaper to transport and easier to take home from the store. This results in a lower cost at the store and for professional installation. The lightness along with the easy snap together design make vinyl easy and more quick to install. However, though it can seem easy to install this material, only a trained professional can do the job correctly the first time.
How to Avoid the Pitfalls of Cheap Vinyl
It's tempting to install vinyl gutters at incredibly low prices. However, this cheap vinyl is thinner than what contractors recommend. This weakness can cause the gutters to sag and grow brittle with age. Cheap vinyl can also warp and break from extreme heat or cold. your best bet to avoid these cheap vinyl pitfalls is to get expert recommendations from contractors. If you ask us, we'll direct you to the gutter systems we trust and install them for you correctly and securely.
While You're at It… Consider Seamless Gutters!
Seamless gutters are continuous gutters that are custom-measured based on your roof's measurements. Noble Roofing installs seamless k-style gutters, which are not only functional, but aesthetically pleasing as well. Our gutters are made of vinyl, aluminum, or copper, all of which can accommodate any climate and adapt to the aesthetics of any home or building. The top three advantages of seamless gutters are:
Aesthetics: Seamless gutters are created with one piece of tubing, eliminating unsightly bolts and seams.
Fewer leaks: Since seamless gutters do not have joints, leak problems that are common in seamed gutters are prevented.
Maintenance: The lack of joints means less damage and routine maintenance required by the homeowner.
Receive A Free Gutter Estimate Today
Make sure that your home is properly protected from the damaging natural effects by getting a high-quality, seamless gutter system. Give us a call today at (703) 404-0505 for an in-home consultation. You can also use our contact form while you are here on our website.